It has brought to our attention that there are unauthorized collecting agents/individuals have been claiming that they are an ECPay accredited stores who collect bills payment in behalf of ZAMCELCO/ECPay without actually remitting the said amounts. Please be vigilant and transact only with the authorized ECPay Stores (See list). Note that an acknowledgement receipt shall be presented to you and a text message (SMS) will be received coming from ECPay itself for every successful payment transaction. The text message (SMS) should not be coming from any unknown number.
Furthermore, the authorized ECPay Collecting Agents should be able to remit the payments received in behalf of the MCOs on the next banking day. If remitted on time, your payment should automatically reflect on our system. Thus, we encourage our MCOs to regularly check your accounts at least 1-2 days after every payment transaction. If payment has been made to ECPay Authorized Collecting Agents but not reflected on our system, you may email ECPay at helpdesk@ecpay.com.ph and ZAMCELCO at finance@zamcelco.com.ph to verify the transaction and for other ECPay payment complaints.
You may follow these steps when paying to an ECPay accredited stores:
Bring your Statement of Account (SOA)/SMS Bill Inquiry for presentation of payment.
Pay the amount payable to the ECPay Accredited Store.
An acknowledgement receipt shall be provided after payment has been made. (See sample photo)
You will receive a text message from "ECPay" itself that you have successfully paid your ZAMCELCO Bill through ECPay. (See sample photo)
At least 1-2 days after the payment has been made, check your account through bill inquiry on ZAMCELCO's website: https://consumers.zamcelco.com.ph/ or you may also inquire through our SMS Bill Inquiry. Just text "ZAMCELCO" "BILL" 8-digit account number and send to 09173029422 to know your outstanding balance.
ZAMCELCO does not in any way authorize third-party individuals neither Zamcelco employees to represent as collection agents. Transact only at the collection windows of ZAMCELCO (Putik Main Office, Ayala Sub-Office and Sangali Sub-Office) or at authorized payment collection agents/channels listed below:
Palawan Express
Southway Mall
Citymall
Budgetwise San Jose Gusu Branch
GCash
Paymaya
BDO Online Banking
DBP – ATM Bills Payment
ECPay Accredited Stores (List of Accredited Stores)
Security Bank Online Banking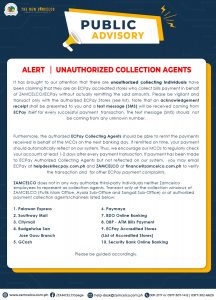 Please be guided accordingly.